December 11, 2015 | How to Uncover Hidden Economic Weakness!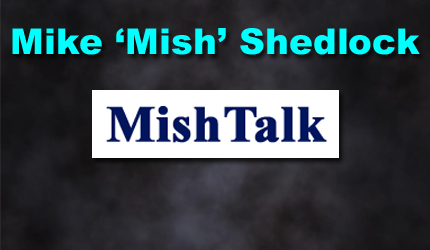 Mike Shedlock / Mish is a registered investment advisor representative for
SitkaPacific Capital Management
. Sitka Pacific is an asset management firm whose goal is strong performance and low volatility, regardless of market direction.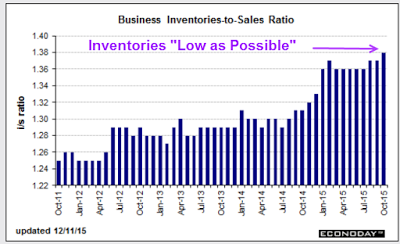 Having just written How to Uncover the Hidden Consumer Strength!, I think it's only fair to see if there is a way to uncover hidden weakness.
Business inventories provide a method. The consensus estimate for month-over-month changes in inventories was +0.1% but the actual change was 0.0%.
To see if we can spot the weakness, let's once again start with analysis from a Bloomberg Econoday report, this time on inventories.
Businesses appear to be putting the brakes on inventories which however are still rising a bit relative to sales. Business inventories were unchanged in October with September revised down 2 tenths to plus 0.3 percent in readings that will pull down the GDP outlook slightly. Sales came in unchanged which is just enough to drive up the stock-to-sales ratio to 1.38 from 1.37. This time last year, this reading was at 1.31.

All three components show only the most minimal change in inventories, up 0.1 percent for retailers and down 0.1 percent for both manufacturers and for wholesalers. And sales tell the story, unchanged in October for both retailers and wholesalers and down 5 tenths for manufacturers.

The lack of punch in the economy, the result of weak foreign demand, continues to put upward pressure on inventories. But businesses are successfully keeping their stocks as low as possible, thereby limiting future corrections in production and employment.
Success in Pictures
I don't know about you, but I am absolutely delighted to learn "businesses are successfully keeping their stocks as low as possible, thereby limiting future corrections in production and employment."
Problem Vanishes
I thought I spotted a problem on December 9 as detailed in Wholesale Trade: Another Bad Report: What About Autos?
Inventories to Sales

The inventory-to-sales ratio is clearly in the danger zone. Over-optimism across the board is generally what causes these spikes.

Year-on-year, inventories are up 3.6 percent but sales are down 3.7 percent. Inventories contributed heavily to rather anemic GDP growth this year.

Inventory and Sales – Percent Change From Year Ago
Group
Sales
Inventories
Sales-to-Inventory Ratio Current
Sales-to-Inventory Ratio Year Ago
US. Total
-3.7
3.6
1.31
1.22
Durable
-2.2
2.5
1.66
1.58
Automotive
2.3
13.1
1.77
1.6
Furniture
6.4
9.9
1.63
1.58

Take a good look at autos. Sales are up 2.3 percent but inventories are up 13.1%. Across the board, inventories-to-sales seem way out of line.
Today, I learn there is no problem because inventories are as lean as they can possibly be.
So, I have to apologize. There are no weaknesses, hidden or otherwise. There are only "hidden strengths".
Please click on the link at the top to discover how Bloomberg can guide you to the proper way to unhide those hidden strengths.
Mike "Mish" Shedlock
STAY INFORMED! Receive our Weekly Recap of thought provoking articles, podcasts, and radio delivered to your inbox for FREE! Sign up here for the HoweStreet.com Weekly Recap.