December 1, 2015 | Fourth Turning – Our Rendezvous With Destiny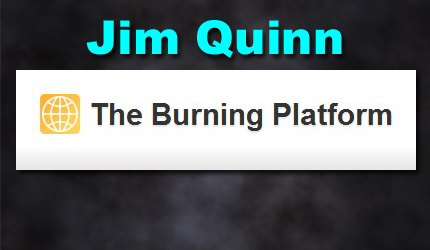 James Quinn has held financial positions with a retailer, homebuilder and university in his 30 year career. Those positions included treasurer, controller, and head of strategic planning. He earned a BS in accounting from Drexel University and an MBA from Villanova University. He is a certified public accountant and a certified cash manager.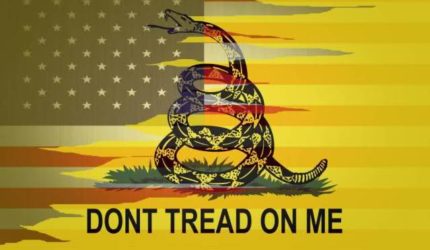 In Part 1 of this article I discussed the catalyst spark which ignited this Fourth Turning and the seemingly delayed regeneracy. In Part 2 I pondered possible Grey Champion prophet generation leaders who could arise during the regeneracy. In Part 3 I focused on the economic channel of distress which is likely to be the primary driving force in the next phase of this Crisis. In Part 4 I assessed the social and cultural channels of distress dividing the nation. In Part 5 I examined the technological, ecological, political, military channels of distress likely to burst forth with the molten ingredients of this Fourth Turning, and finally in this final part, our rendezvous with destiny, with potential climaxes to this Winter of our discontent.
We are now in the seventh year of this Fourth Turning. A famous quote from the seventh year of the last Fourth Turning portended the desperate, bloody and ultimately heroic trials and tribulations which awaited generations of our ancestors. What will be our rendezvous with destiny?
"There is a mysterious cycle in human events. To some generations much is given. Of other generations much is expected. This generation of Americans has a rendezvous with destiny." – Franklin Delano Roosevelt – June 27, 1936 – Philadelphia, PA
Our Rendezvous With Destiny
"The seasons of time offer no guarantees. For modern societies, no less than for all forms of life, transformative change is discontinuous. For what seems an eternity, history goes nowhere – and then it suddenly flings us forward across some vast chaos that defies any mortal effort to plan our way there. The Fourth Turning will try our souls – and the saecular rhythm tells us that much will depend on how we face up to that trial. The saeculum does not reveal whether the story will have a happy ending, but it does tell us how and when our choices will make a difference."  – Strauss & Howe – The Fourth Turning

The people have been permitting a small cadre of elitists, billionaire financiers, corporate chiefs, propagandist media moguls, and crooked politicians to make the choices dictating the path of our country since the 2008 dawn of this Fourth Turning. The choices they have made and continue to make have imperiled the world and guaranteed a far more calamitous outcome as we attempt to navigate through the trials and tribulations ahead. Their strategy to "save the country" by saving bankers, while selling the plan to the public as beneficial to all and essential to saving our economic system, has proven to be nothing more than the greatest wealth transfer scheme in human history.  The ruling class is deliberately blind to their own venality and capacity for evil.
They commit evil acts, not for evil's sake but to improve the world for their kind. All men have the capacity for evil, but only those with power and wealth have the ability to destroy the world in the name of their "progressive" ideology. The lust for power, immense hubris, arrogance towards the masses, and belief in utopian visions, by men portraying themselves as enlightened, have led to the deaths of millions in just the last century. The true reign of terror has yet to reveal itself, as this Fourth Turning will unleash the worst in humanity once the insipid and trivial are swept away by the cruel reality of life and death choices.
We are managed by a totalitarian regime and willingly oblige their aspirations for power, control, limitless wealth, and control over the political, social, economic, and financial levers of our society, as long as we can still facebook, twitter, text, post selfies, and generally amuse ourselves to death. Orwell's vision of a totalitarian regime where boot on the face control, repression, surveillance, torture, and endless war had failed to materialize in the U.S. over the 50 years after the publication of 1984. The vision of Aldous Huxley's Brave New World proved more accurate and is still the dominant totalitarian game plan today. The invisible government manipulating the unseen mechanisms of society, forming the habits and opinions of the masses through propaganda and silence about truth, has efficiently convinced the masses to love their servitude.
"A really efficient totalitarian state would be one in which the all-powerful executive of political bosses and their army of managers control a population of slaves who do not have to be coerced, because they love their servitude. To make them love it is the task assigned, in present-day totalitarian states, to ministries of propaganda, newspaper editors, and school teachers. Such propagandists accomplish their greatest triumphs, not by doing something, but by refraining from doing. Great is truth, but still greater, from a practical point of view, is silence about truth. By simply not mentioning certain subjects… totalitarian propagandists have influenced opinion much more effectively than they could have done by the most eloquent denunciations, the most compelling of logical rebuttals." –  Aldous Huxley – 1946 revised foreword to Brave New World
As the decade's long debt fueled economic expansion petered out at the turn of this century, with average Americans experiencing an ongoing fifteen year recession, punctuated with multiple booms and busts created by the Wall Street owned Federal Reserve, a more Orwellian totalitarianism has begun to raise its ugly boot. As the exponential increase in debt reached its zenith and economic progress for the masses stalled, the ruling class embraced Orwell's belief that once a society built upon hedonistic principles and "good times" loses its vitality, the ruling class would need to invoke government morality, patriotic fervor towards state mandated enemies, a quasi-religious belief in governmental omnipotence, and restrictions upon the freedoms and liberties documented in the U.S. Constitution.
The 9/11 attacks marked the turning point for totalitarianism in America. Their lust for power can no longer be sustained by using suggestion to convince the masses to love their servitude, but will require the truncheon, military hardware, surveillance technology, more prisons, and physical intimidation of the masses to maintain the status quo. We are in the midst of experiencing the worst of Huxley and Orwell's dystopian nightmares.
Fourth Turnings are not finished portraits, but a canvas upon which the colors of history are painted. The specific events, timing, duration, and outcomes are not knowable or predictable in advance, but the reaction and mood of generational cohorts to the events are predictable and consistent throughout history. Anyone who denies the dramatic mood change in the country since 2008 and the deepening crisis mindset engulfing the world is either a member of the existing establishment or on their payroll. Denial and propaganda will not reverse the tide as a tsunami of consequences will sweep away the existing social order and replace it with something different. It may be better or worse, and our choices during the next decade will matter.
Strauss & Howe pondered four possible outcomes to this Crisis:
It could mark the end of man. It could be an omnicidal Armageddon, destroying everything, leaving nothing.
It could mark the end of modernity. The Western saecular rhythm – which began in the mid-fifteenth century with the Renaissance – could come to an abrupt terminus.
It could spare modernity but mark the end of our nation. It could close the book on the political constitution, popular culture, and moral standing that the word America has come to signify.
It could simply mark the end of the Millennial Saeculum. Mankind, modernity, and America would all persevere. Afterward, there would be a new mood, a new High, and a new saeculum. America would be reborn. But, reborn, it would not be the same.
None of the outcomes are pre-ordained. The outcome will be determined by the actions of human beings like you and me. Our choices, decisions, judgment, deeds, hesitations or inactions could impact the future course of history. Human beings are inherently flawed, susceptible to their emotions, greed, pride, arrogance, and hubris. They are prone to delusions, bouts of cognitive dissonance, herd like behavior, and a penchant for normalcy bias.
They are also inherently kind, generous, courageous and capable of great feats. The future of our country has hung by a thread during the three previous Fourth Turnings, on the snow covered fields at Valley Forge, at the stone wall in Gettysburg, and on the blood soaked beaches in Normandy. The time will come when the future of our country will be determined by the actions of a few.
One of the crucial problems we face is the inevitable fact positions of power in our society tend to be filled with psychopathic narcissists whose desire for control, ability to manipulate others into trusting them using charisma, lack of remorse or guilt for their lawless acts, and belief in their own infallibility, create a society with no moral boundaries, no truth, no hope, and no sense of right and wrong.
The psychopaths occupy key positions in Washington D.C., on Wall Street, on Madison Ave., within the military, operating the Department of Homeland Security, running think tanks, in corporate board rooms. They count amongst them media moguls, politicians, central bankers, regulators, CEOs, generals, policemen, religious leaders, and shadowy billionaires, who are meticulous in planning their crimes, with contingency plans when their malevolent deeds come unraveled.
The systematic pillaging of the world's wealth by the chosen few is a highly organized strategy designed to offer few clues to the masses regarding its coordination, scope and malicious intent. The psychopathic ruling class is following a blueprint to enslave the masses in debt, while they fulfill their narcissistic fantasies of domination, control, power and wealth. The people are just pawns in their game of chess, disposable and interchangeable. These people give no pause in sacrificing the lives of millions to achieve their ambition of ruling the world.
We now enter the most dangerous phase of this Fourth Turning. Whether the next financial implosion leads to war or the next war leads to a financial implosion, the consequences will be far reaching and destructive. I see the chances of a unified country choosing shared sacrifice to fight a common foe as almost nil. The eight year reign of Barack Obama drastically increased the divisiveness and mistrust within our borders and around the world.
His failed presidency has left the nation significantly worse off economically, with trillions in new debt added, with more unfunded liability promises totaling tens of trillions added to the $200 trillion bill for future generations. Political, race, religious, generational and wealth divides have grown to cavernous levels, with virtually no chance of compromise or healing. The two leading candidates for the presidency, Hillary Clinton and Donald Trump, promise to divide the country even further if elected.
I believe the Party realizes their game plan since 2008 has failed to revive the U.S. economy, exacerbated the failed socialist experiment in Europe, laid bare the complete and utter failure of quantitative easing in Japan, and as the globalization tide has receded revealed the epic levels of mal-investment in China. The thirty five year delusionary conviction that debt could sustain consumer societies perpetually is coming to its inevitable conclusion.
As more and more debt has been required just to maintain a declining standard of living for the average household, the unsustainability of this paradigm has come into full view. It now appears the contingency plan of the Party is a global war to cull the herd, further enriching the arms dealers and the financiers of war. Politicians around the world have been tasked with stirring patriotic fervor amongst the masses against terrorists – domestic and foreign – and the new axis of evil – Russia and China.
The world is already on the precipice of war, as the situation in Syria and the Ukraine deteriorates. The requirements of alliances and treaties would require a global war if a treaty member is "attacked" or a false flag event is staged to initiate hostilities. With the Chinese economy poised for a debt conflagration destined to be the world's next Lehman moment, the spark which unleashes an inferno of debt going bad across the globe will lead to war.
Once the Rubicon is crossed, there will be no turning back. With Europe already teetering under an unpayable debt burden, enormous unemployment, and now hordes of Muslims invading their lands from the Middle East; oil producing countries undergoing a profound negative economic shock from $40 oil; and countries dependent upon U.S. and European consumption to sustain their mal-investment racked economies; politicians and bankers see war as their last resort for maintaining the status quo.
When the dominoes of debt begin to topple, a global depression will ensue, leading to an enormous surge in unemployment, skyrocketing budget deficits, intensifying currency wars, plunging global trade, and a final discrediting of central bankers and puppet politicians around the world. Civil unrest will unfold in urban enclaves across the U.S. and around the world. The police state will attempt to crush civil disturbances, but if they go too far, a backlash from heavily armed Americans will be in the offing.
The militarization of local police will inflame the situation. If race riots in the urban areas spread to the more rural domain of white America, the animosity created during the Obama years would result in much bloodshed. The elites living in NYC, Washington D.C., and California will insist upon an overwhelming Federal response to the chaos. States occupied by more liberty minded citizens and governors may well resist Federal interference, setting in motion secession scenarios and adding fuel to the fire of civil disarray.
In the midst of economic collapse, plunging stock markets, swelling unemployment rolls, surging home foreclosures, skyrocketing bad debt losses, avalanche of bankruptcies, and chaos in the streets, how will psychopaths controlling our political and financial systems react? Their immense egos, belief in their own brilliance, arrogance, disregard for the consequences of their actions, lack of empathy for mankind, and hubris will lead them to gamble it all on war.
Any attempt to conscript young people to fight wars on behalf of corporations and bankers will potentially be met with armed resistance from people who have seen the truth, as the Deep State veil is pierced. That will leave the psychopaths with only the current volunteer soldiers, their high tech weaponry, cyber-warfare, and most alarmingly their nuclear arsenal. The toxic mixture of human malevolence, miscalculation, bad luck and technological sophistication could lead to Oppenheimer's nightmare.
"Now I am become Death, the destroyer of worlds."
Strauss & Howe pondered four possible big picture outcomes to this Fourth Turning. The first two are almost too horrendous to ponder, with the world destroyed in an Armageddon scenario or an end to modernity, with a complete collapse of science, culture, politics, and society. They are not the most likely scenarios, but their probability is certainly not zero. That leaves the remaining two likelihoods – the end of our nation in its current form or a successful resolution of the Crisis with a rebirth of the nation and a new High.
The reason I cannot fathom a positive resolution of this Crisis is the deeply entrenched corruption and diseased institutions controlling the levers of society. The system cannot be reformed from within and must crash, with the existing social order replaced. There is no gallant leader poised to bring the country back to its former glory. The Roman Empire lasted twelve generations, the Soviet Union one generation, and I fear the American Empire will not survive until its fourth generation in its current form.
So the question remains, what form will our nation take at the end of this Fourth Turning? Rome is still a city in Italy. The people who lived under the Soviet empire still live their lives today. The U.S. could become a drastically reduced nation state, no longer policing the world, with a lowered standard of living, less debt, less government, a currency based on the productive assets of the nation, an economy driven by savings and investment, small local banks that take deposits and lend money to businesses and people, and absolutely no Federal Reserve controlling the currency and interest rates of the country. A desperate public could also turn to a dictator who promises them even more safety and security, with the loss of all freedom and liberty. Or the country could break-up into a multitude of regional countries with like-minded values, economic interests, and beliefs.
I don't know what the future holds for my country, my family, or the world. I do know our individual choices over the coming decade will matter. I do know we are in a fight for the survival of humanity where good people must prevail or evil will triumph. Victory will require individual and communal courage. The fight will require perseverance, determination, foresight, intelligence, and a willingness to die for the ideas of liberty and freedom.
Whether you lead or follow, the only way to bring the country back to its founding principles and restoration of the U.S. Constitution is to act with honesty, integrity, and honor. Leading by example rather than words, while setting high moral standards for your actions, will inspire others to do the same. It may not seem so at this moment, but the very survival of our country is at stake. There are no guarantees and believing God will always be on our side is wishful thinking. The glory or ruin of our country will be decided in the next decade and we will have a say in that outcome.
"Eventually, all of America's lesser problems will combine into one giant problem. The very survival of the society will feel at stake, as leaders lead and people follow. The emergent society may be something better, a nation that sustains its Framers' visions with a robust new pride. Or it may be something unspeakably worse. The Fourth Turning will be a time of glory or ruin.
History offers no guarantees. Obviously, things could go horribly wrong – the possibilities ranging from a nuclear exchange to incurable plagues, from terrorist anarchy to high-tech dictatorship. We should not assume that Providence will always exempt our nation from the irreversible tragedies that have overtaken so many others: not just temporary hardship, but debasement and total ruin. Losing in the next Fourth Turning could mean something incomparably worse. It could mean a lasting defeat from which our national innocence – perhaps even our nation – might never recover." – Strauss & Howe – The Fourth Turning
There is a time for everything, and a season for every activity under heaven:
a time to be born and a time to die,
a time to plant and a time to uproot,
a time to kill and a time to heal,
a time to tear down and a time to build,
a time to weep and a time to laugh,
a time to mourn and a time to dance,
a time to scatter stones and a time to gather them,
a time to embrace and a time to refrain,
a time to search and a time to give up,
a time to keep and a time to throw away,
a time to tear and a time to mend,
a time to be silent and a time to speak,
a time to love and a time to hate,
a time for war and a time for peace.
(Ecclesiastes 3:1-8, NIV)
STAY INFORMED! Receive our Weekly Recap of thought provoking articles, podcasts, and radio delivered to your inbox for FREE! Sign up here for the HoweStreet.com Weekly Recap.