December 2, 2015 | Balls of Steel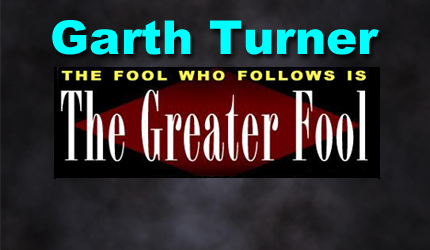 A best-selling Canadian author of 14 books on economic trends, real estate, the financial crisis, personal finance strategies, taxation and politics. Nationally-known speaker and lecturer on macroeconomics, the housing market and investment techniques. He is a licensed Investment Advisor with a fee-based, no-commission Toronto-based practice serving clients across Canada.
When markets turn, they turn quickly. Investors with stocks, mutual or ETFs know that – which is why the smart ones have a balance among different assets classes. When some fall, others pop. But if you have all of your net worth in one thing, and you borrowed insanely to get it, Mr. Market can slay you. That's worrying a lot of people in the shiny new T2 government.
To quickly follow on yesterday's dismal post, consider this: last month in Calgary – the hottest housing market in the country two years ago – sales tumbled another 29%. The average price dropped more than 5% (even after the realtors fudged it). Listings shot 31% higher than a year earlier. Plus the length of time it takes to sell a house swelled 18%.
Even the local real estate board sounds defeated: "Calgary has continued to post job losses in the energy sector, unemployment levels are high, wages are down and recovery expectations have changed. All of these factors have contributed to the weak demand we have seen throughout the year."
And this is just the start. Alberta real estate's decline will likely pick up speed from here. Mr. Market ain't happy.
The human toll when it comes to real estate is often total. People never learn, of course. Housing is the only asset that Canadians routinely pile every last dollar into, plus leverage to the extreme. This creates risk for everyone – the homeowner, the insurer (CMHC) and the economy. As so often stated on this pathetic blog, the risk was elevated absurdly as mortgage rates plunged into the 2% range, and stayed there. Borrowing became uncontrollable. So when we face the double threat of a commodity crisis and rising rates, look out.
By the way, did you catch this comment posted here yesterday?
I'm a mortgage broker and just got the email today. Scotia raised the variable to prime minus 20 basis points as of tomorrow. That was P-65 about a month ago. Banks are chopping the discount fast. Will soon be at prime. Cheap money days are ending fast.
Now, imagine you're a hot new prime minister in search of a selfie. The last thing you need in addition to Nannygate is a housing crash. You can't change the Fed's mind about its looming increase (confirmed on Wednesday). The bond market tells you to buzz off. You can't even seduce oil prices higher, and meanwhile the damn Parliamentary Budget Officer is saying your deficit numbers are fiction and will double in the years to come – putting more upward pressure on rates, tanking housing.
Whaddya gonna do?
Be bold.
Yesterday one of the online journals of the mortgage broker biz, Canadian Mortgage Trends, broke a story that, if true, could change the course of many people's financial lives. Within six weeks, we're told, our new finance minister will announce that minimum down payments will double, from 5% to 10%. The new rules will be designed to give a break to first-time buyers and try to prevent the collapse of smaller markets with a graduated approach.
For example, 5% down for properties up to $500,000, then 7% down to a threshold of $700,000 and 10% above that. The impact would likely be quick, and dramatic. Prices would stabilize immediately, and the insane year/year jumps that we've seen in YVR and the GTA would end. After all, sellers will find it to their advantage to price below these key levels wherever possible in order to attract the greatest number of buyers. Lenders will demand more skin in the game by purchasers. A smaller universe of buyers for expensive listings will impact demand and valuations. And overall, the oil and rate chills will be intensified by a new one – affordability.
Like I said, bold. Consequential news. Especially coming on a day when Fed officials affirm the coming US rate increase, when our dollar cascades into the 74-cent range, when mortgage costs are already rising and oil loses another 4% of its value.
Recent research by the lending industry found that with 10% down payments, 115,000 recent buyers would have been locked out of the market – because they lacked the money. That eclipses all the deals than took place in the country's largest market in 2014 (there were fewer than 93,000 transactions in the GTA last year). Just imagine the depth of that chill.
Now, none of this might come to pass. The Hot One might balk at such a fundamental cold shower for the one segment of the economy – snorfling debt and bidding on houses – that continues to expand. Then again, he might decide to do the right thing.
If so, I will start being more respectful.
STAY INFORMED! Receive our Weekly Recap of thought provoking articles, podcasts, and radio delivered to your inbox for FREE! Sign up here for the HoweStreet.com Weekly Recap.