November 10, 2015 | Assume That 'I' am Central Banker for the Planet!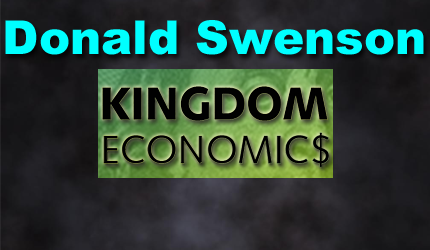 Donald B. Swenson: Born January 24, 1943, Roseau, Minnesota. Graduated H.S. 1961, Moorhead High, Minnesota. Graduated College 1968, Moorhead State University, Minnesota. Designated member of Appraisal Institute (MAI), 1974. Employed with Western Life Insurance Company, 1968 – 71; Iowa Securities Company, 1971 – 73; American Appraisal Company, 1974 – 81. Part-time teacher/valuation consultant/bartender, 1979 – 2008 (taught workshops at Waukesha County Technical Institute, Wi. and Madison Area Technical College, Wi.). Retired 2008 (part time teacher/blogger), AZ. Self educated economist/philosopher/theologian: http://kingdomecon.wordpress.com.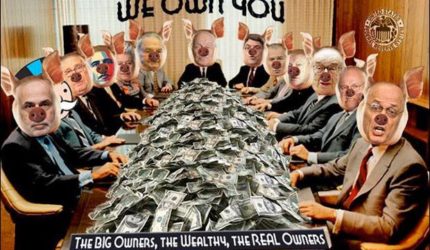 What could I do and create if 'I' were an elite Central Banker (similar to those now in control in the USA, Europe, and China)? Today, we live with cyber money…also called digital currencies. This allows me, as a Central Banker for the Planet, to create 'cyber' digits for everyone who I determine needs them. I become the World Dictator over Money! Money rules this planet and as the key Central Banker for the planet, with access to the computer systems which administer monetary policy, I would be the most powerful elite on this planet. This is where we now are with the new Agenda 2030 and the adoption of the New World Order which starts January 1, 2016. A Central Bank for the planet will emerge in time! One digital currency will emerge if agreement can be achieved!
Money RULES this planet and those who administer the 'digits' choose 'who gets what'!
Our President Obama has committed America to a New Agenda (see below links) which starts on January 1, 2016 (two months from now). This was done at the United Nations Sustainable Development Conference on September 28, 2015. Pope Francis also endorsed this New Agenda for the planet with his blessing of the Agenda 2030 program. Read some of the details: https://kingdomecon.wordpress.com/2015/09/28/agenda-2030-official-usa-policy-as-of-yesterday/. My reading of this agenda leads me to the conclusion that Global Collectivism…also called Communism…is the end game of this Agenda. American freedom for the individual ceases as of January 1, 2016 when this U.N. Agenda becomes official policy!
Our current President Obama has (unilaterally) committed Americans to Agenda 2030! Is this the 'new' American Way? Does our Constitution have any meaning today? Our leaders refuse to follow it!
What has happened to America and its dream of individual freedom for everyone? America has been betrayed and few seem to notice. Americans are mostly 'sleeping' (it seems) and human nature does not like to focus on the difficult issues of elite corruption and betrayal. Select elites have infiltrated America's government (from within) and we now are being sold into cyber enslavement. Watch this video for some details: http://www.keywiki.org. This pastor from New Zealand is more concerned for America than most voting Americans. Could it be that most Americans are 'sleeping' and afraid of challenging the status quo? Why are there so few you discern the events (now occurring)?
October 1929 (some 86 years prior) now needs to happen again! We need a NEW DEAL for all Americans and the global citizens!
We now need to CRASH the financial system (see my prior missive) ASAP so American's wake-up to what is happening in front of their noses. Economic survival will wake-up the masses! Betrayal of our values and history is happening (in front of our eyes) so that a New World Order where select elites RULE over us is the Agenda. A communal/collectivist/socialist/communist Agenda/System has been designed and its implementation is FINAL (unless we all revolt)! We now need an American Revolution similar to our Founding Fathers if this betrayal of our values is to be overturned. Think and check out these websites:
This foreigner has more concern for America than most voting Americans! Why?
Trevor is a New Zealand author, speaker and political activist who maintains a prolific and controversial blog entitled New Zeal. He is founder and editor of KeyWiki, a website dedicated to exposing the covert activities of American politicians. Loudon was also vice president of the ACT New Zealand Party from 2006 to 2008. https://youtu.be/M3LoAd4kK-o
http://www.trevorloudon.com/2015/11/joe-biden-flashback-i-went-to-law-school-on-a-full-academic-scholarship-he-didnt/
The evidence is clear for me. Agenda 2030 will lead us all into a World of Chaos and scarcity! Freedoms will be controlled by a "Mark of the Beast" financial system. Numbers (digits) will control what we buy/sell/desire. All our past freedom's will be gradually given over to the global hierarchy which desires to RULE this planet. This is what our children will inherit unless we create a New American Revolution (Now) which forces a new consensus for our future. Think and reflect on what is now happening. This message is not pretty! Freedom is at stake and prosperity is at stake! Beliefs need to change going forward! Think on these issues (Now)! I am: https://kingdomecon.wordpress.com
STAY INFORMED! Receive our Weekly Recap of thought provoking articles, podcasts, and radio delivered to your inbox for FREE! Sign up here for the HoweStreet.com Weekly Recap.