September 14, 2015 | The Accounting 'Fraud' at the Fed!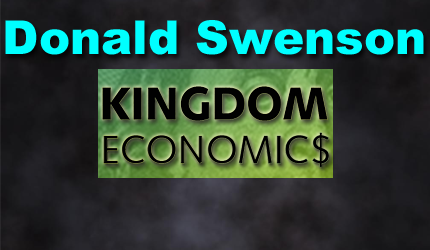 Donald B. Swenson: Born January 24, 1943, Roseau, Minnesota. Graduated H.S. 1961, Moorhead High, Minnesota. Graduated College 1968, Moorhead State University, Minnesota. Designated member of Appraisal Institute (MAI), 1974. Employed with Western Life Insurance Company, 1968 – 71; Iowa Securities Company, 1971 – 73; American Appraisal Company, 1974 – 81. Part-time teacher/valuation consultant/bartender, 1979 – 2008 (taught workshops at Waukesha County Technical Institute, Wi. and Madison Area Technical College, Wi.). Retired 2008 (part time teacher/blogger), AZ. Self educated economist/philosopher/theologian: http://kingdomecon.wordpress.com.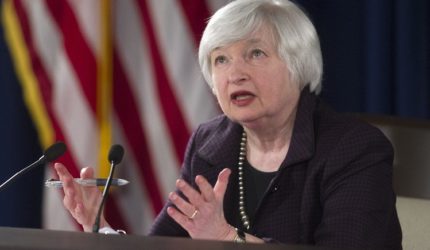 Since 2008 our Central Bank accounting has become more transparent and also more fraudulent. Back in 2008 the 'balance sheet' of our Fed was some $800 billion (I will use round numbers for this missive). Today, this balance sheet is some $4.5 trillion. In 2008 the revenue (profits) which our Fed earned from their portfolio was around $22 billion (my estimate). Revenue derives mostly from their 'interest income' on their portfolio. After paying their own expenses in 2008, they would remit the balance of some $18 billion to our Treasury. This $18 billion is called a remittance (which derives from accounting fraud). But what has happened since 2008?
Does this lady comprehend what she and her policymakers are doing? Does she want to comprehend? The entire operation (called the Fed) is based on 'fraud' and 'corruption'! Why can't our elected representatives get an AUDIT?
Since 2008 our esteemed Fed administrators have pumped some $3.7 trillion of additional digits (called dollars) into their own financial account (these bit $ are called QE) and then they purchased mortgages and treasuries with these bit units (dollars). Where did they obtain the $$$? Think! They are now earning 'interest income' (revenue) on all these additional 'fraudulent' securities to the 'tune' of some $115 billion annually. This means that they now remit nearly $100 billion of 'fraudulent' income to our Treasury from all this prior QE (official counterfeiting of our bit $). Read this write-up from the W.S.J. (January 9, 2015) for more details:
Fed's Bond Buying Yields Bonanza for Treasury
Central Bank Delivers Record $98.7 Billion in Profits
The Federal Reserve sent a record $98.7 billion in profits to the Treasury Department in 2014, largely reflecting higher interest earnings on its big bond holdings.
The central bank's portfolio of securities, property and other assets has expanded to more than $4.5 trillion since the financial crisis from less than $1 trillion before, driven primarily by three rounds of bond purchases aimed at stabilizing the financial system and spurring stronger economic growth.
The Fed earns interest on the bonds as well as income from other sources. Under law, it uses its revenue to cover operating expenses and sends much of the rest to the Treasury's general fund, where the money is used to pay government bills.
The central bank's remittance to the Treasury last year was the biggest since 2012, when it handed over $88.4 billion. Before the crisis, the Fed turned over $21.5 billion in 2005, and $34.6 billion in 2006. The figures released Friday are preliminary and subject to revision.
The Fed said it earned $115.9 billion in interest income from bonds in 2014. The central bank in October ended its third round of bond buying, which was aimed at lowering long-term interest rates to encourage household and business borrowing.
The cost of the Fed's 12 regional bank operations was $3.6 billion last year. Costs related to the central bank's Consumer Financial Protection Bureau totaled $563 million.
The Fed also spent $6.9 billion last year to operate facilities that pay interest on the money banks park at the central bank, called reserves, and on term deposits it accepts from financial firms.
Although the central bank is likely to remain a strong contributor to the Treasury for a while, Fed profits will likely shrink as it raises short-term interest rates. That will require the Fed to pay higher interest rates on reserves and term deposits. And further down the road, Fed officials envision allowing the portfolio to shrink gradually as the bonds mature, which will reduce interest income.
Some officials worry this process could push Fed earnings into the red. While it wouldn't present an operational problem for the central bank, it could draw political fire from lawmakers unhappy with a government institution losing money to make payments to big banks, many of them foreign.
Conclusion: We have a 'fraudulent' Fed and we now live with 'fraudulent' accounting which makes all our official books 'fraudulent'. Our Treasury receives 'fraudulent' income which they call 'revenue' and all this derives from mere QE counterfeiting by our esteemed policymakers (who hide behind the closed doors of the Eccles Building in Washington D.C.). What a farce on the American electorate and our political non-system. Fraudulent accounting at the highest levels goes unnoticed by our esteemed elected representatives. And the American people are mostly unaware of all the 'fraud' and 'corruption'!
Isn't it now time to AUDIT this corrupt organization which has presided over our economy for some 100+ years? Why is this so difficult? Why can not our elected representatives get to the bottom of all this 'corruption' and 'fraud' at the highest levels of our Central Bank? Could it be that they desire this 'corruption' to promote their political agenda for this planet? Does this corruption need to continue so our elected leaders can force us all into this coming World Government system (the N.W.O.)? Yes, our Fed is at the core of all this 'corruption' and 'fraud'! Let's put some additional pressure on our elected representatives to get a FULL audit of our criminal Fed! Enjoy and pass this on! I am: https://kingdomecon.wordpress.com.
The Eccles Building in Washington D.C. It is guarded and very secret. Why?
Ben Bernanke and Janet Yellen (are they aware of what they do)?
Fed Chairman, Ben Bernanke, was the originator of all this QE and 'fraudulent' accounting profits from the Fed Balance sheet! Why no Audit of this corrupt organization and its administrators? Why?
The coming FOMC meeting is in the Eccles Building this week (September 16-17). It will be focused upon an 'increase' in the benchmark 'interest rate'! Why no transparency on this body of elites who run our Centrally Planned Economy? Why no Audit and exposure of the internal 'fraud' and 'corruption' in their accounting?
Why is QE fraudulent? Where do the 'bit' units (called dollars) derive from? Who thinks up the 'bit' units and then increases the SOMA account and calls this an increase in Liabilities? Who then purchases Assets with these counterfeit 'bit' units? Are these 'bit' units official legal tender? Has our Congress and the Court System adjudicated this currency called the 'bit' dollar? Has our Coinage Act of 1965 been officially changed by our Congress and/or our Court System? What specifically is our 'dollar' today? Where is it? What is it? It is not silver! It is not paper! What is it? Why should I pay taxes when our Fed can merely 'type' digits in the computer screen and call this money? Let the Fed fund the government with their QE operation! Think about these questions!
STAY INFORMED! Receive our Weekly Recap of thought provoking articles, podcasts, and radio delivered to your inbox for FREE! Sign up here for the HoweStreet.com Weekly Recap.