September 8, 2015 | Reshaping Asset Mix in Volatile Markets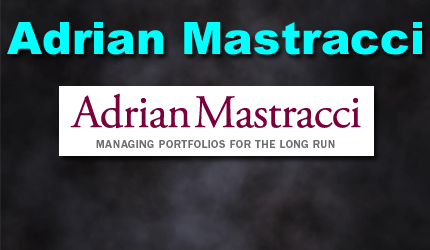 Adrian Mastracci, Discretionary Portfolio Manager, B.E.E., MBA. My expertise in the investment and financial advisory profession began in 1972. I graduated with the Bachelor of Electrical Engineering from General Motors Institute in 1971. I then attended the University of British Columbia, graduating with the MBA in 1972. I have attained the "Discretionary Portfolio Manager" professional designation. I am committed to offering clients the highest standard of personal service by providing prompt, courteous and professional attention. My advice is objective, unbiased and without conflicts of interest. I'm part of a team that delivers comprehensive services and best value in managing client wealth.
Global stock markets are turning more volatile, day by day.
Investing prospects are changing.
Don't panic.
Think asset mix instead.
Asset mix determines the categories of investments you want to own.
Such as stocks, bonds, cash and real estate.
The role of portfolio managers is to maintain perspective and discipline.
Not reacting to the slew of noises of the day.
I focus on the fundamentals of investing and not let emotions interfere.
You should too.
Consider the implications of these situations:
You may still have too much invested in stocks and mutual funds.
Your current asset mix does not resemble your real investor profile.
You may not realize your portfolio is exposed to high risk.
Your unintended consequences are incurring too many risks.
My first time inquiries are firmly entrenched in these predicaments.
The initial step to sanity is to establish your true investor profile.
A 70% to 85% mix of stocks is an aggressive profile; 85% to 100% is speculative.
It takes serious appetite for risk to embrace either of these profiles.
Reshaping your investing is sensible, especially your asset mix targets.
A touch of rebalancing is also savvy strategy.
Studies show that asset mix delivers the most impact on portfolio outcomes.
Not superior selections, nor market timing.
Pay attention to the comfort of your current mix.
I suggest that:
Owning over 60% in stocks and mutual funds attracts too much risk for most.
Owning under 60% in stocks and mutual funds needs a few sensible tweaks.
One simple fix is to lighten up on stocks and mutual funds.
Begin with a trim, not major surgery.
Deal with your riskiest investments first.
Prune gradually to asset mix levels that match your investor profile.
Most investors are comfortable with a balance of stocks and bonds.
Use market dips and rallies to make adjustments to your mix.
My sage advice is to revisit your asset mix, then reshape it.
That is the smart choice.
These volatile markets present great opportunities.
Regards,
Adrian
STAY INFORMED! Receive our Weekly Recap of thought provoking articles, podcasts, and radio delivered to your inbox for FREE! Sign up here for the HoweStreet.com Weekly Recap.