September 13, 2015 | Hillary's Behavior Instructive for Economists!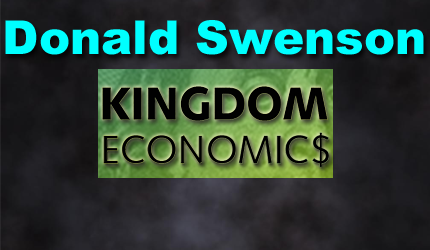 Donald B. Swenson: Born January 24, 1943, Roseau, Minnesota. Graduated H.S. 1961, Moorhead High, Minnesota. Graduated College 1968, Moorhead State University, Minnesota. Designated member of Appraisal Institute (MAI), 1974. Employed with Western Life Insurance Company, 1968 – 71; Iowa Securities Company, 1971 – 73; American Appraisal Company, 1974 – 81. Part-time teacher/valuation consultant/bartender, 1979 – 2008 (taught workshops at Waukesha County Technical Institute, Wi. and Madison Area Technical College, Wi.). Retired 2008 (part time teacher/blogger), AZ. Self educated economist/philosopher/theologian: http://kingdomecon.wordpress.com.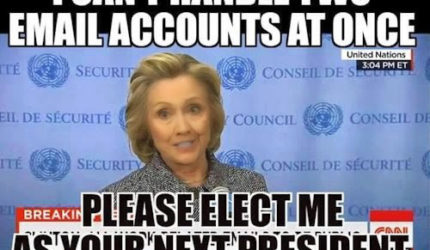 Hillary Clinton (apparently) used a private Server for her public and private emails while Secretary of State. This Server, located at her residence in N.Y.,  was then managed by a member of her staff at the State Department who was paid by the Clinton's for this management. All this is according to a Washington Post report which I read today. The 'information' on her Server was later completely 'deleted' (after she left State in 2013) and turned over to law enforcement personnel (2015) who have discovered that it was 'blank' when inspected. The hard drive was apparently 'blank'!
Some 31,000 personal emails (apparently) had been 'deleted' by Hillary (or staff) from this Server. How many public emails ('deleted') pertaining to official duties while at the State appears unknown. Hillary appears to claim that all public emails were transferred to a 'thumb' drive and then this 'thumb' drive was turned over to her attorney and later the State. The difference between 'wiped' clean and 'deleted' is instructive for economists and finance professionals? What this episode reveals, to me, is that emails and text stored on a hard drive or in the cloud (cyberspace) can be both 'deleted' (from a Server) and also 'wiped' clean by overwriting and/or by a destruction of the Server.
Those of us who understand our currencies today realize that all our currencies are now mostly units of information (bit units) within cyberspace and stored via special physical computer 'Servers'. We call our currencies today digital/cyber/bit units! So what are 'Servers' and what do they do? What is meant by the words 'delete' and 'wiped-clean'?
(Ser´ver) (n.) A computer or device on a network that manages network resources. There are many different types of servers. For example:
Servers are often dedicated, meaning that they perform no other tasks besides their server tasks. On multiprocessing operating systems, however, a single computer can execute several programs at once. A server in this case could refer to the program that is managing resources rather than the entire computer. Also read: A server is a computer that provides data to other computers. It may serve data to systems on a local area network (LAN) or a wide area network (WAN) over the Internet. Many types of servers exist, including web servers, mail servers, and file servers.
The behavior and experiences which we are now discovering…with the Hillary episode…appears to show how ephemeral and non-physical all our text, numbers, images, and data are which we experience within our computer screens. All this 'data/information' can be 'deleted' and/or 'wiped-clean' if desired. This means that all our currency units (now mostly in cyberspace and stored on Servers) can also be 'deleted' and/or 'wiped-clean' by our banksters. In other words, our so-called 'money' is now a unit of one's consciousness which gets 'stored' temporarily on Servers which then create the 'virtual' bits/bytes which we experience in our computer screens. Very interesting!
Thank you, Hillary, for revealing your behavior and actions while and after your stint at the Department of State. This new information gives everyone an opportunity to understand such concepts as:  computer Server, delete, wiped-clean, cyberspace, hard drive, thumb drive, recovery, and other concepts pertaining to our internet communication system. It appears, to me, that all this new information can also be applied to all other types of data stored on Servers and used for accounting and financial purposes. Today, we live in a computer age and all information (emails and currencies) are part of this new concept which we call Cyberspace!
All our digital/cyber currencies are now on Servers and in Cyberspace!
The ephemeral nature of all this data within Cyberspace reveals that all our digital/cyber currencies today are also ephemeral and capable of being 'deleted' or 'wiped-clean'. This reality shows that a currency RESET may be a soon coming reality within our financial markets. All our currencies can be 'wiped-clean' (removed from virtual reality/cyberspace) by our Central Banksters and their political proxies. Then a new global digital/cyber currency could be started for the entire planet. This 'Mark of the Beast' currency could become a reality in the near future. Beware of what our cyber criminals at the highest levels may implement for our World.
Today's technology allows for the official 'deletion' of all our existing digital/cyber currencies (dollar, pound, yen, euro, krona, etc.) and the implementation of a new financial regime with new digital/cyber units. An exchange of the current units (called 'money') for a new unit could be in the planning stages as I write this missive. We now live in an electronic age and cyber crime at all levels is ubiquitous. Hillary and the Clinton's are a good example of how current technology can be used for the benefit of our highest officials. The common man is subservient to all these officials at the Highest levels. Think on this! Enjoy! I am: https://kingdomecon.wordpress.com
STAY INFORMED! Receive our Weekly Recap of thought provoking articles, podcasts, and radio delivered to your inbox for FREE! Sign up here for the HoweStreet.com Weekly Recap.