September 29, 2015 | Agenda 2030: Official USA Policy as of 'Yesterday'!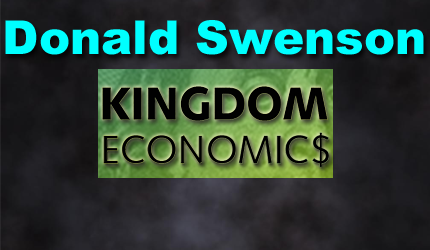 Donald B. Swenson: Born January 24, 1943, Roseau, Minnesota. Graduated H.S. 1961, Moorhead High, Minnesota. Graduated College 1968, Moorhead State University, Minnesota. Designated member of Appraisal Institute (MAI), 1974. Employed with Western Life Insurance Company, 1968 – 71; Iowa Securities Company, 1971 – 73; American Appraisal Company, 1974 – 81. Part-time teacher/valuation consultant/bartender, 1979 – 2008 (taught workshops at Waukesha County Technical Institute, Wi. and Madison Area Technical College, Wi.). Retired 2008 (part time teacher/blogger), AZ. Self educated economist/philosopher/theologian: http://kingdomecon.wordpress.com.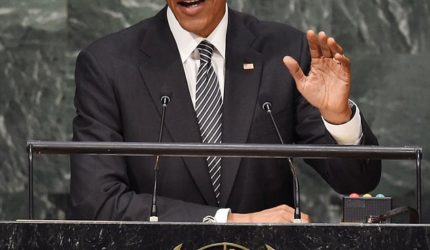 Our Socialist President, Barrack Obama, has officially committed America to the Agenda 2030 philosophy.  This commitment occurred yesterday, Sunday, September 27, 2015. Few Americans are aware or care! This means that Capitalism is now officially OVER and the agenda of the United Nations will prevail going forward. Starting in January 2016 (in three months) America will be committed to Communism as its official policy. Read the U.N. Agenda 2030 development goals for all the details: https://sustainabledevelopment.un.org/post2015/transformingourworld. Communism and a New World Order is the agenda and historical Capitalism is now OVER. What a change has developed…with few Americans aware of this significance!
President Obama addresses the United Nations on 9/27/2015!
Yes, Sunday, September 27/28 (also the day of the 4th Blood Moon and the beginning of Sukkot) was the time for our Socialist President to announce the most significant change in American philosophy since its Declaration of Independence in 1776. Our founding Fathers would turn over in their graves if they were living souls. But they are gone and we now live in a New Age of Central Planning and Global Communism. Few comprehend the significance of this change and what it all means. Tribulation must follow as all these policies mean that our current system must collapse and reemerge under Central Planning and Communism. The beginning of the End has arrived!
It's all smiles for the elite but emerging SLAVERY for the many! What a change!
Our Global Pope (Pope Francis) initiated this new Agenda 2030 and our American President has now committed all Americans to this new Agenda and its goals. It would be wise for every reader of this missive to read the details of this agenda and their goals. Do this now at: https://sustainabledevelopment.un.org/post2015/transformingourworld. What I now realize is that we citizens and voters do not determine the real PHILOSOPHY which rules over us. Our leaders will impose their Agenda upon all via their decisions. Voters are mere ponds with little input on the BIG issues of policy!
Read the words of our Socialist President: http://news.xinhuanet.com/english/2015-09/28/c_134665325.htm
UNITED NATIONS, Sept. 27 (Xinhua) — U.S. President Barack Obama on Sunday committed the U.S. to achieving global development goals at a United Nations summit, vowing to reduce inequality and create opportunities around the world.
"In doing so, we recognize that our most basic bond — our common humanity — compels us to act," Obama said at the three-day Sustainable Development Summit that ended here at the UN Headquarters in New York Sunday.
On Friday, world leaders adopted at the summit the 2030 Agenda for Sustainable Development, which includes a set of 17 Sustainable Development Goals to end poverty, fight inequality and injustice, and tackle climate change by 2030.
Obama said the world suffers no illusions of the challenges ahead in achieving the goals, but "we understand this is something that we must commit ourselves to."
In his defense of the 15-year plan, Obama said some 800 million people are scraping by on less than 1.25 U.S. dollars a day and billions of people are at risk of dying from preventable diseases.
In his address, the U.S. President also warned against bad governance and inequality, among others, which threaten the achievement of the ambitious goals.
"Governments have to embrace transparency and open government and rule of law," Obama said, calling for combating corruption, illicit finance and promoting civil society groups.
Another report says the following: http://www.ibtimes.com/united-nations-2030-agenda-president-obama-joins-world-leaders-aim-eradicate-poverty-2115911

President Barack Obama joined with world leaders Sunday to commit to the 2030 Agenda for Sustainable Development. The adoption of the framework, announced at the United Nations General Assembly, means the U.S. will join other nations to eradicate extreme poverty and adopt sustainable policies with long-term impact.
Over the next 15 years, the agenda aims to eradicate poverty and hunger, protect the environment, promote human rights and gender equality, empower women, strive for peaceful and inclusive societies and fight against inequalities. It is the culmination of two years of consultation and development.
Conclusion: The significance of this decision by our Socialist President (without any prior consultation with our Congress or the American people) reveals how our World works. The people are not in control and never have been. We the people are mere ponds in the hands of our corrupt elite…who rule over us. We have no input into these World Changing Events. What a farce on the intelligence of voters who can not discern what is happening. Communism, a failed philosophy, will now be gradually implemented for the entire planet. Central Planning will be the modus operandi. We are all serfs and slaves of our corrupt financial system and our corrupt policymakers. But who cares? Think for yourself! I am: https://kingdomecon.wordpress.com.
P.S. Read and weep (individual enslavement is emerging): 
Transforming our world: the 2030 Agenda for Sustainable Development
Preamble This Agenda is a plan of action for people, planet and prosperity. It also seeks to strengthen universal peace in larger freedom. We recognise that eradicating poverty in all its forms and dimensions, including extreme poverty, is the greatest global challenge and an indispensable requirement for sustainable development. All countries and all stakeholders, acting in collaborative partnership, will implement this plan. We are resolved to free the human race from the tyranny of poverty and want and to heal and secure our planet. We are determined to take the bold and transformative steps which are urgently needed to shift the world onto a sustainable and resilient path. As we embark on this collective journey, we pledge that no one will be left behind. The 17 Sustainable Development Goals and 169 targets which we are announcing today demonstrate the scale and ambition of this new universal Agenda. They seek to build on the Millennium Development Goals and complete what these did not achieve. They seek to realize the human rights of all and to achieve gender equality and the empowerment of all women and girls. They are integrated and indivisible and balance the three dimensions of sustainable development: the economic, social and environmental. The Goals and targets will stimulate action over the next fifteen years in areas of critical importance for humanity and the planet: (this is not supportive of the philosophy of America's Founding Fathers or for Individual Freedom and Prosperity)!!!!!!!!!!!
STAY INFORMED! Receive our Weekly Recap of thought provoking articles, podcasts, and radio delivered to your inbox for FREE! Sign up here for the HoweStreet.com Weekly Recap.